Faribault County Humane Society (FCHS)
Notice:
If you encounter an animal running loose, please call the
Faribault County Sheriff's Department.
FCHS volunteers, are unable to pick up or facilitate the capture of a stray animal.
The Sheriff's department will dispatch the Animal Control Officer.
Thank You In Advance...FCHS
The Faribault County Humane Society (FCHS) is a 501(c)3 nonprofit organization ran entirely by volunteers, and is located in Blue Earth, MN. FCHS is a no-kill shelter that also acts as the local animal impound.
Each year, dozens of homeless, abandoned and surrendered animals are cared for at FCHS and are placed in loving homes throughout our community.
Look at
What's New!!!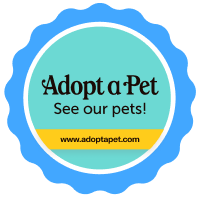 =================

We're so pleased to be recipients of the Petco Foundation's grant this year! Their generous donation will go towards the care of many animals in our shelter.
Can You Donate?
All donations are invested into the care of the animals and maintaining our shelter! To make a tax deductible donation, use the PayPal option below or write a check, please make checks payable to the Faribault County Humane Society and mail it to:
Faribault County Humane Society
P.O. Box 231
Blue Earth, MN 56013
Safe and Secure with PayPal!


Adopt a life-long friend today!
If you are interested in adopting a pet, call, mail, or email the Faribault County Humane Society.
An Adoption Application can be mailed or emailed to you.
Or you can download a printable adoption form Here.
Once they receive the completed form, they will check your references, and determine if you and the pet are a good match. Sometimes several families want the same pet, so we need to determine the best placement.
It may take a few days to process your application. FCHS members are all volunteers with many jobs!.
Could You Become a Foster "Mom" or "Dad"?
Our animals need foster homes while we work toward finding them a forever home.
Could you foster a cat or dog?
FCHS provides the food and litter and pays for all needed medical expenses, and you provide the home and TLC.
FCHS hopes to have their own facility some day. For now, they depend on foster homes for all of the animals. They need you!
Download Foster Qualification Form Here
Apply to Join Our Team of Volunteers!
You can do it! We need responsible people (must be 18) to take care of the animals at the shelter. It's simple: provide food and water, scoop litter boxes, and play with the cats and dogs. We have three shifts a day (AM, 2:00, PM). Even if you can do just one shift a week, that helps!

Join Our Team of Volunteers!
Click Here!
Some of Our Needed Supplies Include:
Dried Cat and Dog food
Canned Cat and Dog food
Sensitive stomach/Digestive care foods
Leashes (New or Used)
Collars (New or Used)
Scoopable Cat Litter
Litter Boxes
Chain Link Fencing (New or Used)
Chain Link Fence Panels (New or Used)
Pet carriers
Cat towers
Velcro cinch straps (holds bedding on shelves)
Kuranda Beds
(Kuranda Beds are recommended by Spots.com!)
Used blankets
Toys
Sanitizers for cleaning (non-harmful to animals - no bleach)
Hand soap and dish soap
Dreft laundry detergent
Dryer sheets
Wash clothes and towels
Gloves
Storage bins/totes
Can You Help The Fairbault County Humane Society Find a New Forever Home?
The Fairbault County Humane Society is looking for donations of property or land for our new facility!

Call Debby at 507-520-6304

Call Now